30 Important Digital Marketing Update in January 2020
Important Digital Marketing Update in January 2020, Here you will know all the Digital Marketing Update and New Things of Jan 2020
There are so Many Updates, Many of which we remember and many not. Facebook, Instagram, Youtube, Tiktok and many other social media sites, search engines and digital marketing tools have given us updates.
There were some updates which were very positive that benefited everyone but many updates were also such that many people suffered the loss.
There were also some rules which were lifted soon after it was implemented.
So let us know all such digital marketing update, if there is anything left in this January 2020 Digital Marketing Update, then tell it in the comment section.
#1 Microsoft advertising Launches Sweepstakes for Advertisers
In the New Year 2020, the world-famous company Microsoft Advertising has launched an incentive Sweepstakes for advertisers, The entries are open for agencies in the America., Canada, United Kingdom, Ireland, Netherlands and Germany
#2 Brand can Now Buy Walmart sponsored search ads via API partners
The second digital marketing update is, Brand can now Buy Walmart Sponsored search ads via API partners, The company named four initial ads API partners: Flywheel Digital, Kenshoo, Pacvue, and Teikametrics. This is the step taken by the Walmart media group to attract large manufacturer budgets. (This article was originally published on Marketing Land if you want more about this headline so you can read this article on Marketing Land)
#3 Youtube adds 'Assisted Trim' Feature to Automatically crop out copyright claimed elements
This YouTube update is like a new year gift for YouTube creators. Almost all YouTubers were troubled by the copyright claim and copyright strike problem.
YouTube has been working to address such concerns over the past year, and last month, as part of an update to YouTube Studio, it rolled out a new process which will give creators the option to automatically remove the claimed section of their video, freeing their content from any such claim.
#4 Google Local Pack "Choose Area" Feature Now Live
(This article was originally published on Search Engine Roundtable if you want more about this headline so you can read this article on Search Engine Roundtable)
#5 Google Displays "Get More Reviews" For Local Knowledge Panels you Manage
Google has changed the button for your local knowledge panel from "write a review" to "get more reviews" for the businesses you manage. When you click that new button, Google gives you a way to share with people the ability to leave reviews for your business, as opposed to taking you to write a review.
#6 Lists on Google Maps Search Carousel for Restaurant
Google is testing a new search user interface treatment for map results called "Lists on Google Maps." This shows you a carousel of results from Google Maps, Google My Business listings, that you can scroll through and learn more about.
#7 Bing Pages Launches to Promote your Public Persona
Bing has quietly launched Bing Pages, a beta program that lets users manage their presence on Microsoft products such as Bing and Outlook.com
#8 Google Local/Maps with "In Between" Links to Other Businesses
Google Maps and Local can show in a business listing profile the address but near the address, it sometimes shows other businesses nearby. Well, now it can also show where that business is sandwiched in between other businesses.
#9 Google Ads Testing custom Dimensions to enable reporting based on your business structure
If you manage large or complex accounts or have extensive campaign naming taxonomies, Google Ads custom dimensions might help simplify your reporting efforts and campaign naming systems.
custom dimensions in Google Ads allow you to append annotations to your campaigns to report on categories and subcategories aligned with your business structure and goals.
#10 Instagram Adds New Brooming Modes & Capability to Trim Boomerang Loops
Instagram has added some new options to its Boomerang camera mode for Stories, including 'SloMo', 'Echo' and 'Duo' variants.
🐢 SlowMo
🗣 Echo
👯‍♀️ Duo

Boomerang has new creative twists that'll make you say yaaassssss. Try them all out today. pic.twitter.com/wp0A71RefL

— Instagram (@instagram) January 10, 2020
The new options add more ways in which you can use the Boomerang mode to liven up your Instagram Stories. In addition to this, Instagram has also added capacity to 'trim and tweak' your Boomerang loop (visible in the second screenshot in the example above) in order to better control your final clip.
#11 Facebook Adds new "Page Management History" tab in page tools
Facebook has added a new tab to its Page settings which provides an overview of actions taken by Page admins, including Page role allocations, contact information, Business Manager relationships, and more.
#12 Facebook Outlines  new 'Video Traffic Source Insights' and provides video tips
In This Facebook Creator Studio dashboard called 'Traffic Source Insights' which would provide a more direct overview of video watch time and retention metrics within four separate audience categories – 'Followers', 'Shares', 'Recommended' and 'Paid'.
#13 Twitter is testing an option to enable users to limit who can reply to their tweets
The social network said it will begin testing a new conversation participants menu on its compose screen that will give the tweet creator four options for who can reply to their tweets: Global, meaning anyone on Twitter; Group, limiting replies to people followed or mentioned by the tweeting account; Panel, whereby only people mentioned in the tweet can reply; and Statement, which prohibits all replies.
information source: Adweek
#14 Twitter planning to remove the audience insights elements from analytics
Twitter is killing the Audience Insights page on Jan 30

For now, you can find this page at https://t.co/eOk5ECahfJ pic.twitter.com/YIRwqMdmDM

— Matt Navarra (@MattNavarra) January 7, 2020
Twitter has confirmed that it is indeed removing its Audience Insights tab from Twitter Analytics at the end of January.
#15 Google Expands Domain Name and Icon Listing in the search results to web queries
Last May, Google unveiled a new look for its mobile search listings, including brand icons and more prominent domain listings, which are designed to help provide more clarity around the sites that users are connecting with via search.
Now, Google is expanding this new format to web-based queries as well.
#16 Google Screened Ads Testing Photos
Here is what I currently see, without the photos:
Google Screened Ads – like Google guaranteed ads – is testing showing photos of the professional. Like a headshot of who you are looking to hire to do your job or your work. Joy Hawkins posted a screenshot of this in action on Twitter.
#17 Instagram Begins testing of DMS in its Desktop Version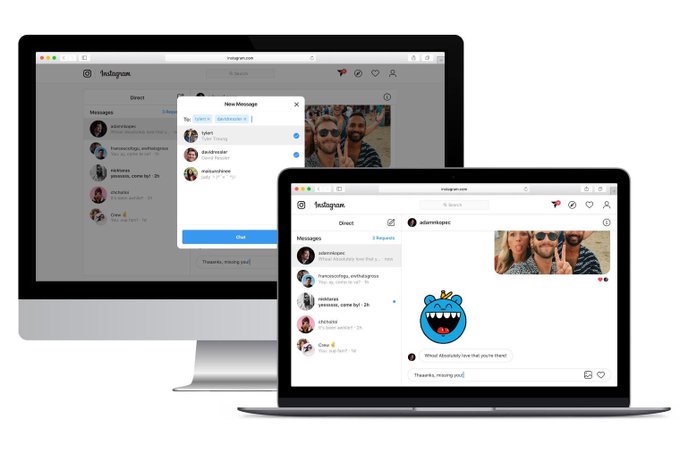 This will be welcome news to many Instagram marketers. After the functionality was first spotted in testing in February last year, Instagram has now confirmed that it will begin a small rollout of direct message access through the web-based version of its app.
#18 Linkedin adds Live-Streaming for company pages & new 'Invite to follow' options
LinkedIn is now expanding LinkedIn Live to company pages, while its also officially adding a new option to invite personal first-degree connections to follow a business page that you manage.
#19 Instagram is working on a new 'Maps' sticker for Instagram Stories
Instagram is working on a new map sticker for Stories which would display your location on a world map.
#20 Google Launches new clothing search format to batter facilitate e-commerce queries
Google continues to make inroads into better facilitating eCommerce queries, this time via a new search results format which is specifically designed to display clothing-related queries.
#21 Facebook's Adding more details on its user controls over advertisers' custom audience list targeting
Last February, Facebook added some new info elements in its 'Why am I seeing this ad?' listings which provide users with a better understanding of how each ad has been targeted, including notes on the use of Custom Audience lists from third-party data providers.
#22 Twitter Updates TV Show Reminder Format
Twitter has updated the format of its TV show reminder buttons, which, when tapped, notify users when TV shows will go to air.
#23 Twitter Launches Emoji Reactions for Direct Messages
Say more with new emoji reactions for Direct Messages!

To add a reaction, click the ❤️➕ icon that appears when you hover over the message on web or double tap the message on mobile and select an emoji from the pop-up.

For more about DM reactions: https://t.co/sdMumGDBYl https://t.co/QxMVmGt8eY

— Twitter Support (@TwitterSupport) January 22, 2020
Twitter has announced the launch of its new Reactions-like option in direct messages, which enables users to allocate a quick emoji response to any message within a thread.
#24 Instagram Is Adding a New Way to Find and Share Stories that Mention Your Profile
#25 Snapchat Signs New Deal with NBC to Air Daily Shows Covering the 2020 Tokyo Olympics
Snapchat has signed a new deal with NBC which will see it host a range of exclusive programming around the 2020 Tokyo Olympics.
#26 TikTok Signs New Music Licensing Deals to Enable Increased Music Usage and Partnerships
Music is central to TikTok, and the company is now close to further legitimizing such connection with a raft of a new music licensing deals which are, reportedly, close to being announced.
#27 LinkedIn Announces Merger of Elevate Functionality with Company Pages
LinkedIn has announced that it's merging the functionality of its Elevate employee advocacy platform into its company pages tools, providing more ways for LinkedIn page managers to engage their employees in order to amplify relevant updates and build a reputation online.
#28 Google will not repeat featured snippet listings on page 1
Google's Danny Sullivan has confirmed that webpages in a featured snippet position will no longer be repeated in regular Page 1 organic listing
If a web page listing is elevated into the featured snippet position, we no longer repeat the listing in the search results. This declutters the results & helps users locate relevant information more easily. Featured snippets count as one of the ten web page listings we show.

— Danny Sullivan (@dannysullivan) January 22, 2020
.
This is a brand new change rolling out as of today.
The change will affect 100% of all search listings worldwide.
#29 Google's Desktop Search Results Get a New Look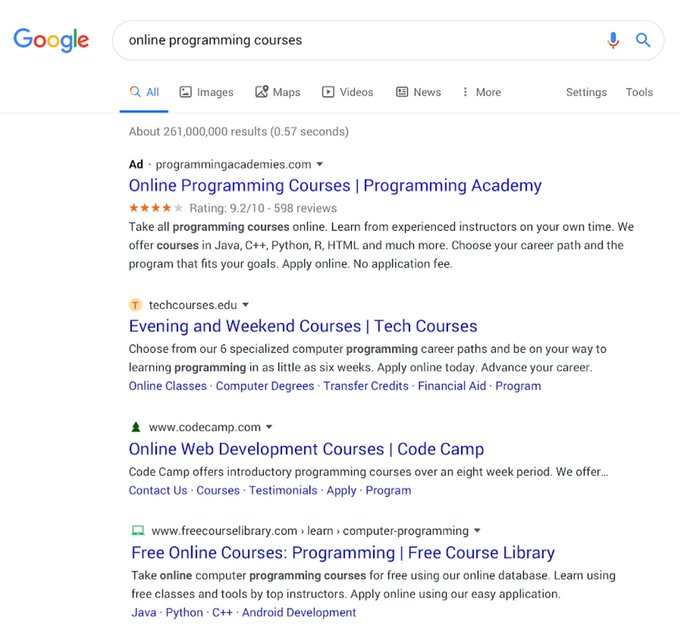 Before. Here is a screenshot of what the desktop search results looked like before:
#30 Instagram is testing emoji reactions for direct messages

Instagram is reportedly also testing out quick emoji reactions for direct messages in the app.
source: Search Engine Roundtable
Source: Search Engine Journal
Source: Search Engine Land
Source Social Media Today
Thank you! if you Like these digital marketing update tell me in the comment section and if you want to get more update like so don't forget to Subscribe (Now you can subscribe my Blog with your FB messenger for getting the latest update) and Share…..